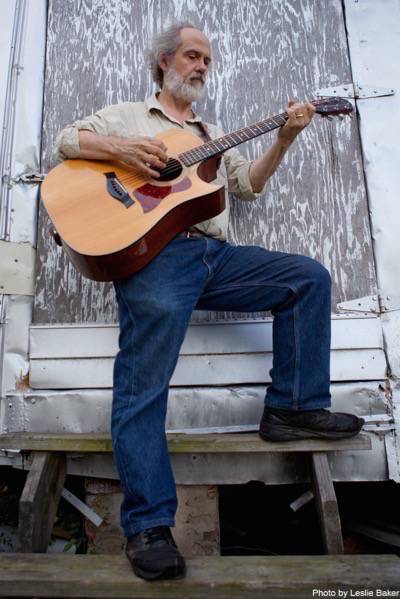 Eric has been writing songs for most of his musical life. His songs tell slice-of-life stories about relationships, and about the joys and disappointments that we all face. They tell stories and paint pictures. There are songs about people, songs about places, and songs about current events. Some songs are funny and some a serious. In addition, Eric has what he describes as his "occupational angst" songs, which reflect on the trials and tribulations of working in corporate America.

Eric's songs are featured in four collections. His first CD, "My Slice of Forever", was recorded with his wife, Helen Wolfson. This CD includes such perennial favorites as "Tin Foil Hat" and "Occupational Euthanasia".

A number of Eric's more powerful songs are collected on his solo CD, "Varnell Road," and on the Constellation CD, "Altogether Too Splendid." Included on "Varnell Road" are songs about events in Eric's life. The sorrowful "Hole in the World" was written after the death of his father, while "Baucis and Philemon" tells the story of his favorite Greek myth and relates it to his relationship with his wife. Other tracks contain a few of his signature story-telling songs like the "Stand in the Fire," a powerful song about the dying thoughts of a soldier on a far-off battlefield. The songs on "Altogether Too Splendid" range from sweet love songs to Eric's musical credo statement.

Along with his songs, Eric has composed a number of instrumentals. These vary in style from the evocative Indian-inspired "Music to Charm Snakes By" to the upbeat tribute to a friend, "Planxty Paul Hayman," and to the lyrical, "Old Folks at Home." Many of these tunes can be found on Eric's solo CD, "Varnell Road." Several other fine examples of his instrumental compositions can be found on the CDs he made with his wife in their duo, Constellation. These CDs include "Altogether Too Splendid" and "Painting the Sky."

Eric's live show will feature much of his recorded material as well as a number of as-yet unrecorded songs. A typical show will also include both vocal and instrumental pieces. Finally, Eric may well include one of his distinctive instrumental take on any number of pop and traditional tunes. So, be prepared for good songs, good music and a good time!